AMPER Case Study
DAVANTIS installs its video analytics perimeter protection solution at multinational AMPER'S headquarters. This company has more than 60 years' experience in the telecommunications sector, transforming business models with technology.
AMPER needed protection that would comply with the highest security standards to enable its staff to verify alarms quickly and easily. The objective? To guarantee client and project security.
Using our compatible, flexible solutions, ten visible analogue and two analogue thermal cameras were combined with the Daview S and Daview LR systems to create a totally scalable system, compatible with all brands of hardware on the market.
DAVANTIS provided a training course for AMPER staff to enable them to harness all the advantages of video analytics and assisted them throughout the project. The result? An efficient perimeter security system that covers all our client's needs.
Case Study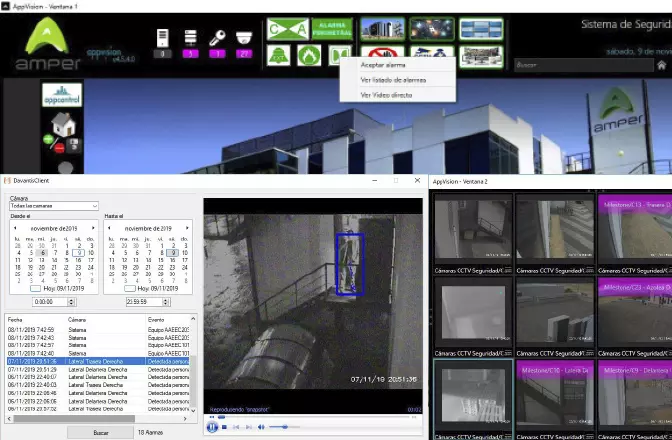 Amper is a multinational group with more than 60 years' experience in telecommunications, dedicated to transforming the market toward new business models, integrating sector solutions and communications technology.
With a clear international vocation and strongly committed to innovative, excellent engineering, it operates in Europe and Latin America in the communications, security and industrial sectors. It has headquarters in Madrid, Mexico, Costa Rica and Peru.
Its shares have been listed on the Madrid and Barcelona stock markets (AMP) since 1986.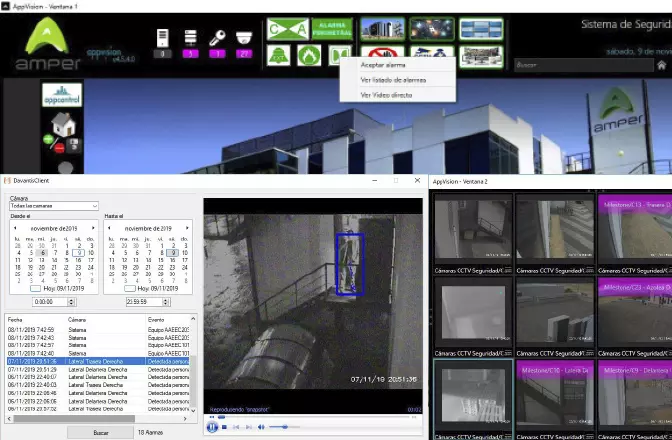 The AMPER corporate building needed a highly effective security system to cover all aspects: the building, employees, visitors and documentation, which would allow it to carry out all its activities and guarantee the security that its projects and clients require.
It needs a highly effective perimeter protection system that would comply with the highest security standards, which would enable security staff to check any alarms triggered by unauthorised activities quickly and efficiently. That's why it opted for the DAVANTIS video analytics system, an ideal solution.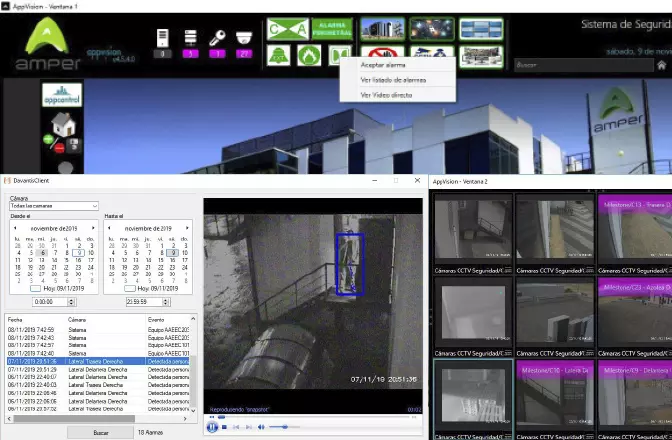 AMPER's corporate building is protected by a DAVANTIS video analytics system that protects the premises and staff and ensures that everything runs like clockwork at all times.
DAVANTIS video analytics systems were fully compatible with all the existing cameras on the site.
AMPER choose the AppVision by PRYSAM integration platform, and the AMPER project engineering department at AMPER SISTEMAS developed the DAVANTIS integration driver in AppVision inhouse.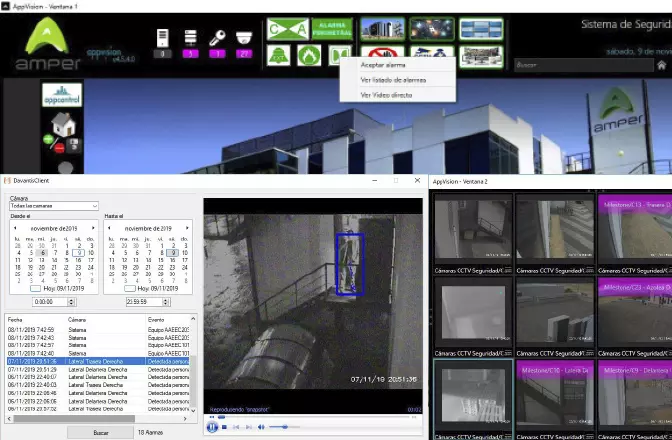 The system detects unauthorised access by analysing video captured by the set of cameras installed around the parameter of the Amper corporate building, showing the alarms generated in the AppVision Security platform. This is vital, necessary information for the security staff at the Control Centre.
Having established the perimeter to protect, a DAVANTIS video analytics system was configured, with the following parameters.
The Master/Slave configuration designed consisted of:

1 Master Server (with 2 visible analogue cameras)
4 Slave Serves (with 8 visible analogue cameras and 2 IR)
10 Visible cameras
2 IR cameras

The alarm outputs from the cameras (serial connection) to the Alarm Centre (SPC Vanderbilt).
Integration of alarms and the API provided by DAVANTIS in the AppVision platform, with all the functionalities of the video analytics system.
Security rules where configured for each camera for optimal efficiency of the system.
The DAVANTIS equipment was capable of combining 10 visible analogue cameras and 2 analogue IR cameras. A combination of the Daview S and Daview LR compatible, scalable systems.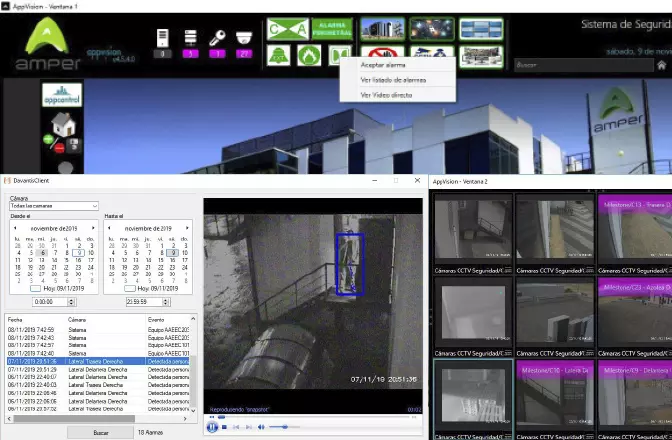 Benefits for installers:
DAVANTIS provided AMPER SYSTEMS development staff with a training course. The course encompassed system configuration, creating rules, networks, distribution channels and maintenance, to be able to manage incidents and alarms. This was a great competitive advantage, combining technology and development staff to create an efficient solution, tailored to the company's requirements.
DAVANTIS supplied AMPER SYSTEM with preconfigured equipment (servers and SR and LR licences).
DAVANTIS provided remote technical assistance to the AMPER SISTEMAS development staff throughout configuration, tests and commissioning of the system, and everything was up and running in no time.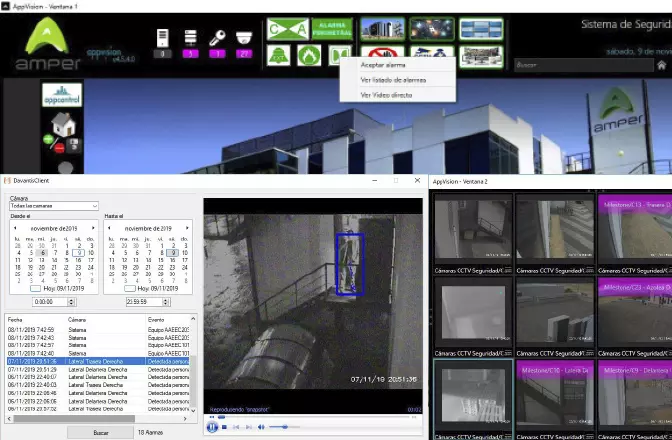 Benefits for end users:
The security operator has a single interface, provided by the AppVision security platform.
DAVANTIS sends alarms based on video analytics to the Security platform, enabling verification and management quickly and efficiently and giving access to recordings in the system in case of need.
What's keeping you awake at night?
We help you fight insomnia with DFUSION! If you have security challenges, find out how our technology can be the solution.