A solution for every Project
DFUSION MINI
Small sites
Connected to the Alarm Monitoring Station
67 m (73 yd)

Day/night camera
DFUSION
Industrial sector
Integration with VMS and PSIM
67 m (73 yd)

Day/night camera
235 m (257 yd)

Thermal camera
DFUSION
PRO
Critical infrastructures
Integration with VMS and PSIM
120 m (131 yd)

Day/night camera
505 m (552 yd)

Thermal camera

Features
Distance
67 m (73 yd) Day/night camera
Intruder
Detect people intruding on your property
Vehicles
Detect vehicles intruding on your property
Entry/exit
Detection of people and vehicles entering leaving the area
Appearance/disappearance
Detection of persons entering and leaving the frame
Combination of rules
Possibility to configure different security rules
ONVIF
Compatible with onvif devices
Distance
67 m (73 yd) Day/night camera
235 m (257 yd) Thermal camera
Integration
Integration with VMS, CMS and PSIM
ONVIF bridge
Acces DFUSION streams via onvif
High resolution
High resolution analytics
Distance
120 m (131 yd) Day/night camera
505 m (552 yd) Thermal camera
ATK

PRO
Optional automatic tracking module
Advanced Features DFUSION

PRO
Virtual IR
Virtually illuminates dark areas to improve intruder detection and enhance the image. The system processes images received by the camera, highlighting difficult-to-detect, dark areas and showing a clearer area for better supervision.
Stabiliser
Allows more accurate image analysis and reduces false alarms, typically caused by camera shake or movement.
Smart PTZ
Based on detection with fixed cameras, the Smart PTZ feature enables directional pan, tilt and zoom to the detection area, enabling better identification of the intruder.
ATK
PRO

Optional Module

What happens when an intruder appears and disappears quickly from the field of view?
The Smart PTZ function positions the PTZ camera in the detection point. Once the camera is in position, ATKPRO takes control and follows intruders as they move about the site.
This gives you an enlarged, higher-resolution of the security breach. What's more, you'll know exactly where the intruder went before leaving the site.
The video from the PTZ camera is sent to the AMS with the alarm to give the operator an enlarged view of the intruder and information about what they did. Once alarm is verified, the operator can activate deterrent measures remotely.
Real perimeter security detection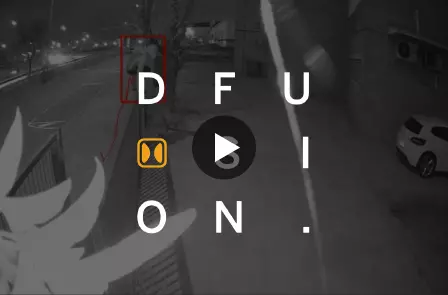 Drastic reduction in false alarms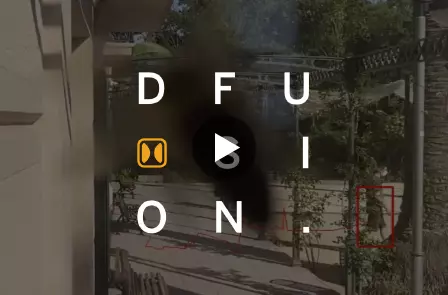 Insects obstructing security cameras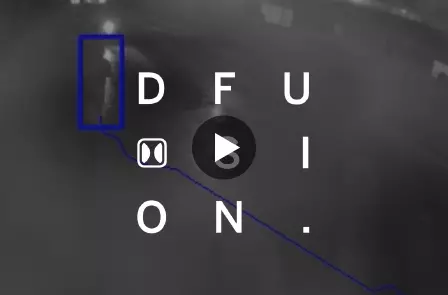 Adverse weather conditions
We're here to help
How to optimize your security?
We advise you to turn your installation into a cutting-edge solution, with DFUSION